Contact Email Addresses:

Director director@ciuac.org
Information info@ciuac.org











All Rights Reserved © Cosmos International University
©Since 1999
The best locations in the world to do research on all specializations of autonomous research degree programs of Cosmos International University are countries that recognize and support Modern Heuristic Education System and Cosmos International University. The director has been in the USA for two consecutive years, and has found out that the education system in the USA doesn't automatically support Modern Heuristic Education System. Any country that supports Cosmos International University system and Modern Heuristic Education System is the best country to do autonomous research. There are also the possibilities of doing autonomous research in other continents like some Asian countries. Current contact address of the director is given below. Remember Cosmos International University has neither buildings nor signboards. And the degree programs are suitable only for eligible individual autonomous researchers.


Director's Contact Address is: Prof. Dr David Ngin Sian Pau MA, PhD, DPh.
General Director
Cosmos International University
7129 N 54th Ave, Apt D,
Glendale, AZ 85301, USA.
Cell Phone: 602 580 4070


If you want to make any payment to Cosmos International
University, contact the director. Thank you.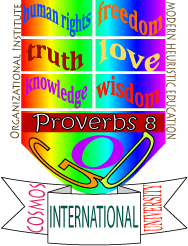 by Professor Dr.David Ngin Sian Pau PhD,DPh(Teaching English)
Read this web page in your language! Click this spider's
web and just enter this web address in the appropriate box.



Earn Cosmos International University's
PhD, Philosophical Doctor
and
DPh, Advance Doctor of Philosophy
in five to ten years via email.